Between the event that'll live on as Bitcoin Pizza Day ten years ago and today, the world's first cryptocurrency, Bitcoin (BTC), saw it's network metrics increase by six, eight, even fifteen digits.
Happy Bitcoin Pizza Day, Cryptoverse! For those who are new to this event, today we celebrate one man's first crypto purchase – he bought pizza with a mind-boggling amount of bitcoin. On this faithful day in 2010, programmer Laszlo Hanyecz paid a Bitcoin talk forum user for two Papa John's pizzas with BTC 10,000. At that time, this was worth some USD 25, but today we're talking about more than USD 90 million! And Hanyecz was never allowed to forget it.
It wasn't possible (or it was?) to predict at the time what road BTC would take. Now in 2020, looking back over the past ten years, we are able to see an enormous growth for this network, protocol and asset class, based on numbers alone, not to even venture into discussions on mainstream adoption, higher institutional interest, many regulator's and authorities' shifting and more favorable stances, better crypto education, etc. – all of which have contributed to the rise in the coin's network metrics, which then leads to more adoption, and so on.
To see how Bitcoin changed over time from its first pizza day, we took a look at its progression from 2010 until today and we discovered that:
BTC price appreciated around 360 million % in ten years, from USD 0,0025 to more than USD 9,000 today.
The market capitalization is up by 56 million %.
Hashrate (computing power of the network) is through the roof…of Burj Khalifa: it's up 177 trillion %.
Block size is larger by 270,000%.
The number of transactions per day increased by 536,000%.
The average value of transactions is up 257,000%.
The active address count is now 215,000% higher than a decade ago.
Bitcoin price chart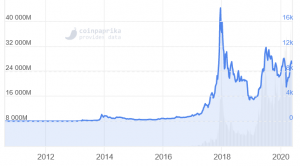 Here are more details on individual network metrics (starting with the first available 90-day moving average data):
| Metrics | First available date | May 21, 2020 | Difference |
| --- | --- | --- | --- |
| Hashrate | 62 M on May 22, 2010 | 110 E | 177 trillion % |
| Transactions | 55 on May 22, 2010 | 294,906 | 536,000% |
| Active addresses | 319 on May 22, 2010 | 686,000 | 215,000% |
| Block size, B | 294 on May 22, 2010 | 794,164 | 270,000% |
| Market cap, USD | 253,000 on October 14, 2010 | 142B | 56 million % |
| Avg. value of transactions, USD | 10 on October 14, 2010 | 25,700 | 257,000% |
Source: Bitinfocharts.com
___
Here's the change in searches for "bitcoin" on Google.
And here are several Bitcoin Pizza Day slices served by the Cryptoverse. Happy celebration!
Bitcoin pizza day: 10 years ago a programmer bought two Papa Johns pizzas for 10,000 $BTC.
WOW # @PapaJohns put up a billboard Ad to celebrate todays #BitcoinPizzaDay ## https://t.co/Shhbx3s6XQ
Accurate footage of today. https://t.co/5GnS8kKtta

— Giacomo Zucco (fighting Covid1984 global pandemic) (@giacomozucco)
It's not about "the idiot" who spend 10 000 #bitcoin on pizza.
The famous #BitcoinPizza was an online transaction. This is one of the first physical stores that accepted #Bitcoin… https://t.co/xeNURJ8jJJ

Credit: Source link